Oilfield Solutions wire rope slings rigging shop is DNV approved to manufacture wire rope slings in accordance to DNV 2.7-1.
We supply a complete selection of wire rope slings in mechanical splice, hand splice and multi-part braid.
Our mechanical splice slings can be supplied as a single leg or in multi-legged fabricated with your choice of hardware.  Our quality management system is ISO 9001:2015 certified. This ensures full traceability and control of document as part of our quality assurance policy.
As a minimum, our wire rope slings are supplied with unique identification numbers, safe working loads, certificate of conformity and mill certificate for the wire rope and other component that make up the wire rope sling set.
When selecting the proper sling for your application, please allow our experienced staff to assist you in choosing the right type. It is vital for your efficiency, productivity and most of all your safety.
DNV Approved Wire Rope Slings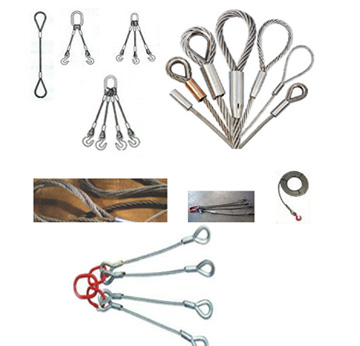 Wire-Rope Slings Configuration
Wire Rope Sling Supply